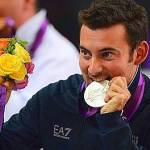 LONDON. Italy as a whole is speaking of him and it could not be otherwise. Shooter Luca Tesconi does not belong to those talented youngsters, perhaps irresponsible and unruly. Instead, he is a calm 30-year-old athlete of the Carabinieri sports club. Thanks to his extraordinary strength of will and after plenty of sacrifices he managed to be a silver medallist at the Olympic Games. He placed second in the men's air pistol from 10 metres and his silver medal was the first earned by Italy at the London Olympics.
Tesconi told Versilia Today the feeling of achieving such a result. "This is just a dream coming true", he said. "I realised in the morning heats that I could win a medal, for the gap between the several individual scores were really tight.
"For me it was already a success to be here in London, but in the final I literally gave my soul. I encaged myself in a bell jar and I shot fluidly, as long as I managed to stay calm. There is no regret, I definitely did my best so far."
His mobile phone is ringing almost every minute. Friends, parents and relatives are craving to congratulate him for the silver medal. "I just would like to thank my trainer Marco Masetti and all my family, for they have always supported me.
"I asked my parents not to come to watch the final, I would be rather emotional. Now I'll go on holidays for one month."
Nobody would question how much deserved this break is.
(Words Gabriele Noli – Translation Simone Pierotti)
(Visitato 26 volte, 1 visite oggi)