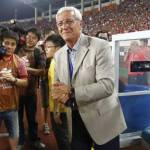 VIAREGGIO. He has gone down into history as the man who coached Juventus in one of their most glorious and successful eras, the mid-1990s, as well as the head coach who led the Italy national team on the top of the world following the huge Calciopoli match fixing scandal. Now Viareggio-born manager Marcello Lippi might be remembered, similarly to his fellow countryman Marco Polo, as the man who discovered China, at least in terms of foootball. The Paul-Newman-like coach has just won the national league, enabling Guangzhou Evergrande to reaffirm themselves as the domestic title holders.
Lippi's triumph came after a very thrilling afternoon and following the elimination in the Asian Champions League a few weeks ago. With 180 minutes to go to the end of the season, Evergrande topped the league with a score of 55 points, three more than rivals Jiangsu Sainty. Both teams played in their own stadium, respectively against Liaoning Hongyun and Beijing Guoan.
The two games were still goalless until the stroke of the 90th minute, when Chinese international striker Gao Lin flashed the ball past the Liaoning goalkeeper with a dazzling shot. That was the goal who have made Evegrande absolutely sure of their second national title in a row. Sainty will not be able to fill the five-point gap with just one match in hand.
Lippi is supported in his Chinese adventure by a technical staff composed by Italians, including Massimiliano Maddaloni, who was born near Naples but has settled himself in Viareggio, where he coached the local football club and his family still lives.
(Visitato 27 volte, 1 visite oggi)