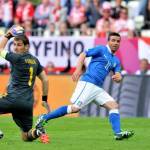 VIAREGGIO. Football fans from Italian small villages and medium-to-large cities, as well as from the country as a whole, have been dreaming and keep on with dreams thanks to Totò Di Natale. The tiny footballer has just two different colours to bear in mind regarding his professional career – the blue jersey of Empoli and Italy national team and the white-and-black-striped one of Udinese, his current club, and Viareggio, the team from the homonymous Tuscanian seaside location.
The Napoli-born forward, aged 35, has still got a lethal eye for goal whereas footballers of the same age have already hung their boots up or are tempted to retire. His job is still to make dreams come true. This is what he did yesterday in the Italy debut match at Euro 2012 against Spain, tied 1-1. This is what he also did in Viareggio more than a decade ago, when the local team were in the then-Serie C2, the fourth tier of Italian football.
Di Natale wore the Viareggio shirt only in the 1998-99 season. Still, those few months were sufficient to guarantee him the fondness by local fans. The entire town joyfully recalls those bright days and celebrates whenever he beats a foreign goalkeeper.
The Neapolitan footballer joined Viareggio as the season had already kicked off. Empoli sent him on loan to Varese in the third division, but he had not many opportunities to show his potential. Consequently, he decided to drop one division in order to play regularly. He made the debut with his new team-mates on 11 October 1998. On that day, Viareggio drew 1-1 against Fiorenzuola and it was Di Natale's attacking partner Vitaliano Bonuccelli, nicknamed "The Condor", to score.
His first performances were encouraging. Di Natale, who was just 21, gave a sample of his skills and got along famously with Bonuccelli. More importantly, he definitely convinced Viareggio manager Roberto Pruzzo, the notable ex-Roma striker, that he was a reliable player. Yet, he had to wait one more month in order to celebrate his first goal. On 8 November 1998 the Zebre won 3-0 in Novara and Di Natale scored a brace.
22 December 1998 was doubtless his most memorable day in Viareggio. On that occasion, the team trounced Biellese 5-0 at local Stadio dei Pini and home fans watched the most impressing display by the attacking duo. Di Natale scored a hat-trick, Bonuccelli a brace and Viareggio supporters started to daydream. Effectively, they formed a well-matched partnership, the former being a tiny and rapid second striker, the latter epitomising the classic top-drawer centre-forward particularly gifted in aerial challenge and always dangerous inside the box.
The new year began in the same way it had finished, with the team winning thanks to a pragmatic and spectacular football and, above all, to Di Natale's goals. On Epiphany Day the Zebre played in Sanremo and the Neapolitan netted twice. Sadly, he subsenquently went into hospital due to severe flu and missed some matches.
On Valentine's Day the love affair between Viareggio and Di Natale was eventually reinforced as the striker scored his third personal brace in the 4-3 away victory in Fiorenzuola.
One month later the versatile striker flashed the ball into the net for the 10th time in the season, in a 1-1 draw against Pontedera. Then, in late March he scored the only Viareggio goal in the 2-1 home defeat to Pro Patria. Like in all brief but passionate love stories, the farewell was a beautiful as well as struggling moment. Di Natale amazed Viareggio fans for the last time as he struck in the derby against Pisa at Stadio dei Pini, ended in a 1-1 tie.
At the end of the season Di Natale's personal score was a sensational one, with 12 goals in 25 appearances, including a hat-trick and three braces. That is to say, almost one goal every 180 minutes. Viareggio were 10th at the end of the season.
Almost naturally, Empoli, who had just relegated from Serie A, called him back. Together with future Middlesbrough striker Massimo Maccarone, Di Natale brought the club to play again in the heaven of Italian football. The rest of the story is quite well-known – he earned his first Italian cap, signed for Udinese and has been playing internationally almost uninterruptedly since 2006.
However, the mark he has left in Viareggio is more evident than you would imagine. He has a special friendship with former team-mate Andrea Gazzoli, now an appreciated general manager, and owns a villa in Versilia, where his family watched the match against Spain.
Actually, there is no Viareggio-based fan who could forget his deeds together with Bonuccelli. That attacking duo still recalls fond memories and, according to many supporters, it was the best ever seen at Stadio dei Pini.
Versione italiana – Versión española
(Visitato 123 volte, 1 visite oggi)
Aggiornato il: 11-06-2012 12:17