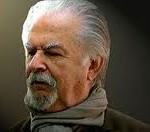 PIETRASANTA. Notable Colombian artist Fernando Botero (pictured left) has chosen Pietrasanta, a lovely town in Versilia, Northern Tuscany, to celebrate his 80 years throughout a great art exhibition. Called "Fernando Botero: disegnatore e scultore" ("Fernando Botero: drawer and sculptor"), the event will be inaugurated tomorrow, Saturday 7 July, at 6pm. The squares and the narrow streets of Pietrasanta's historical centre will be the perfect scenario for this exhibition. Botero is used to spend here most of the time with his family and he has established a creative relationship with Pietrasanta in the 1970s, whereas he received the freedom of the town in 2000.
The South American artist has wanted his exhibition path, taken care of by Alessandro Romanini, to be mainly focused on drawings. He provides a full repertoire of techniques and iconography. From pencil to pastel, from plaster cast to watercolour, from sanguine to charcoal, everything has been made on paper or on canvas. In terms of contents, the exhibition summarises the main features of Botero's work.
The Chiesa di Sant'Agostino hosts his large-sized drawings. Combined with a skilful articulation of sculptures, these works enable the spectator to appreciate the comparison between the plasticity of his drawings and the sculptural one. These 10 statues recall some of the main themes portrayed in the drawings, such as the female figures in 'classic' and mythological iconography, the still and equestrian life. The Sala dei Putti, located inside the Chiostro of Sant'Agostino, collects a wide selection of drawings dedicated to themes Botero holds dear like the bullfight and the circus.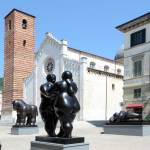 Monumental sculptures will be present in Pietrasanta, too. The Colombian exposes six bronze statues ("Cat", "Woman on horseback", "Lying down woman", "Dancers", "The abduction of Europe" and "Horse with bridles") in the central Piazza del Duomo (pictured left). Botero tells himself throughout 80 different works overall. They all come from his private collection and most of them have never been unveiled to the public.
The exhibition will be open until 2 September, from Tuesday to Sunday, from 6pm to midnight and it is free entry. The Comune di Pietrasanta and the local visual arts centre have taken the initiative for the event, which is also sponsored by the Italian Ministry of Foreign Affairs, the Ministry of Cultural Heritage, the Provincia di Lucca and the Colombian embassy to Italy.
The Regione Toscana is among the sponsors, too, alongside Unicoop Tirreno, Camera di Commercio di Lucca, Banca Versilia Lunigiana e Garfagnana-Credito Cooperativo, Vanelli Aldo Marmi, Gruppo Unipol, GVM-La civiltà del marmo and Banca Profilo. The Italian Presidence of Republic has adhered as well.
(Visitato 180 volte, 1 visite oggi)