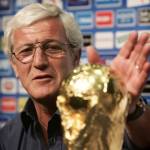 VIAREGGIO. Italians can forget about the tears following the recent defeat in the Euro 2012 final against Spain, at least for today. Indeed, they can recall the very fond memories of the World Cup in Germany, won by their national team exactly six years ago.
The last penalty kick converted by wingback Fabio Grosso, the ejection of France star Zinedine Zidane as he butted Azzurri defender Marco Materazzi, millions of Italian football fans in seventh heaven who celebrated along streets and squares all night long – these snapshots comprise a piece of history which nobody cannot, and does not want to, forget.
That was the Italy national team skippered by centre-back Fabio Cannavaro, the Italy of warrior Marco Materazzi and of top-drawer centre-forward Luca Toni, both leading scorers of the squad with two goals each. That was the Italy of Gianluigi Buffon, Andrea Pirlo, Daniele De Rossi, Mauro Camoranesi, Simone Perrotta, Gennaro Gattuso and Alessandro Del Piero, to name but a few. Above all, that was Marcello Lippi's Italy.
The Viareggio-born coach accepted the challenge of being at the helm of the Azzurri once he won everything in Italy, in Europe and in the world as Juventus manager. He eventually won this challenge and returned to the senders all the critics that accompanied him in the World Cup adventure.
Lippi is a typical person grown up in Viareggio, a place where you can find harsh people accustomed to get straight to the point and not to talk between the lines when it comes to express an opinion. Perhaps, this is why Lippi has always divided journalists and fans, at least from this perspective.
Exactly six years ago, on 9 July, Italy reached the top of the world in football for the fourth time in their history. This achievement became possible courtesy of a Viareggio-originated manager. He gave a significant contribution to make the name of this seaside resort shine and be renowned all over the globe. Almost naturally, and probably deservedly, somebody in his hometown still pays tribute to him.
(Click here for the Italian version)
(Visitato 23 volte, 1 visite oggi)