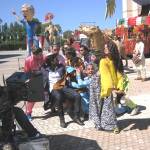 VIAREGGIO. It might sound odd to the ears of Viareggio's inhabitants, but it seems Indians have fallen in love with this dozy town by the sea in Northern Tuscany.
A couple of months ago Pooja Entertainment chose the esplanade of Viareggio and the beach of Torre del Lago Puccini as the perfect place for the shooting of some scenes of "Ajab Gazabb Love", a Bollywood film. Now it was the turn of home production Eskay Movies India to pick the so-called "Pearl of the Tyrrhenian Sea" as the set of the film "Kanamachi", which includes Ali Sajjadi as line producer.
In particular, the Cittadella del Carnevale ("Carnival Citadel") was chosen for the shooting. It is here that the genuine ideas of local artists turn into 20-metre-high mammoth floats made of papier mâché. Such unique masterpieces march on parade along the esplanade on a yearly basis in wintertime, making Viareggio Carnival one of the most famous Italian events.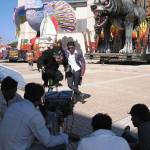 Moreover, these floats impress local inhabitants as well as tourists, and it appears they have made it with Eskay Movies India, too. The Indian home production has decided to shoot some scenes in the main square of the Cittadella, encaged by the hangars where the papier-mâché-made giants come to life.
"Kanamachi" is the story of a troubled love affair between two Indian youngsters. She was born of a wealthy family, whilst he is poor and jobless.
However, he is very determined in achieving his ultimate dream, even to challenge her family. He eventually tries to amuse her and the Cittadella is one crucial stage.
Here, surrounded by masks and floats and backed by ballets and choreographies, he will finally try to seduce the girl.
Perhaps, sh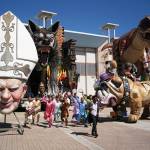 e might be amazed by the menacious wolf made by Franco Malfatti, the coloured phoenix built by brothers Luigi and Uberto Bonetti and the impressive Tyrannosaurus rex created by Massimo Breschi.
The Indian home production was definitely satisfied with the set and impressed by the greatness and the beauty of the floats. It has been guaranteed that Viareggio Carnival will be adequately promoted in the trailer of the film, which is supposed to be released in October both in Indian cinemas and on the internet.
Indeed, other home productions are reportedly interested in shooting film scenes inside the Cittadella.

@GorskiPark
(Visitato 192 volte, 1 visite oggi)